HOME OF THE FREE, BECAUSE OF THE BRAVE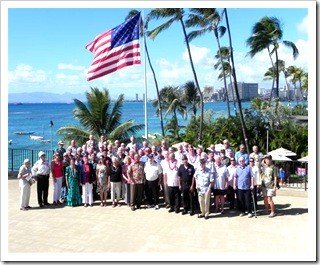 On Veterans Day, November 11, 2012, Augie Rey Fernandez, Veterans Committee Chairperson for Honolulu Elks Lodge 616 organized a "Mahalo Luau†to honor our 616 Veterans for their service to our Country. Over 100 Veterans and their guests were treated to a fun filled and meaningful afternoon. Those Veterans in attendance gathered on the Lanai to observe Special Troops from Fort Shafter raise the Garrison Flag in a very moving ceremony. Entertainer, Veteran and member of the Honolulu Lodge, Danny Kaleikini, sang the Star Spangled Banner. A group picture of those in attendance was taken. Once back in the Lodge Room there was the "missing man table and honors ceremony†ending with taps and the 11 o'clock Toast.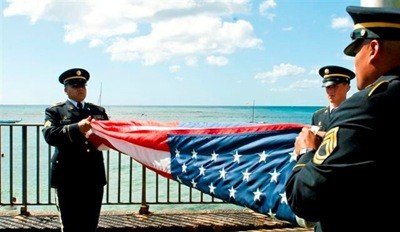 The keynote speaker for this event was Dr. James Hastings, US Army Brig. Gen (ret), currently the Director of the Veterans Administration. After some outstanding entertainment by local entertainers the program ended with the distribution of "certificates of appreciation†and a copy of the group picture for each Veteran. A special thanks goes out to Lt. Col. Matthew Goodman, Commander, 8th Special Troops Battalion, Fort Shafter and Americanism Chairperson to arrange the military participation in this very successful event.