All About Elks
Who are the Elks?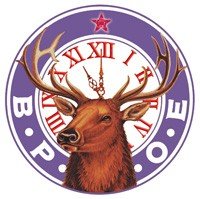 The Elks are American Citizens who want to save America's great values. Elks love others and want to make sure they are healthy and happy. They love life, and want to contribute to it, as well as to share it.
The Order of Elks was formally organized on February 16, 1868, in the City of New York. A non-profit organization, its full corporate name is Benevolent and Protective Order of Elks of the United States of America. Its declared purposes are to practice its four cardinal virtues, Charity, Justice, Brotherly Love and Fidelity.
The goal of Elks is to:
Promote the welfare and enhance the happiness of its members;
To quicken the spirit of American patriotism;
and to cultivate good fellowship.
The animal from which the Order took its name was chosen because a number of its attributes were deemed typical of those to be cultivated by members of the fraternity. The elk is distinctively a North American animal. It habitually lives in herds. The largest of our native quadrupeds, it is yet fleet of foot and graceful in movement. It is quick and keen of perception; and while it is usually gentle and even timorous, it is strong and valiant in defense of its own.
A representation of the majestic head of the male, with its spreading antlers, was adopted as the first badge of the Order, and is still the most conspicuous element of its copyrighted fraternal emblem.
Read more about the CHEA history.
Review our Frequently Asked Questions.
Learn How to Join the Elks.