Monterey Elks and Big Little Lies Helping Charity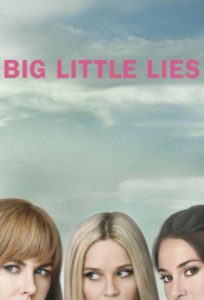 Filming in Monterey of the Golden Globe and Emmy-winning HBO series, BIG LITTLE LIES, recently brought a lot of excitement and a lot of charity cash to Monterey Elks Lodge #1285.
Production film trucks parked on the Lodge's spacious parking lot from early Tuesday, April 24 and until after dark Wednesday, April 25. Vans brought film crews to the Lodge from various filming sites and a catering truck prepared and served a sumptuous lunch for about 150 of the crew at noon on Wednesday while they enjoyed the Elks wide dining room windows in The Lodge with the View.
Many weeks earlier, the Blue Blues Production location chief Sam Gomez contacted the newly-installed Elks ER, Beau Finklang, and began detailed planning. Luckily, Beau is a PER who thoroughly knows the Lodge facilities and the Elk requirements and Sam is experienced in making a location work well, for all involved.
Beau immediately contacted the five Trustees, who gave their approval to sign the parking lot agreement. Beau negotiated the final signing of the agreement and immediate check for $5000 which is being split between ENF and Major Projects accounts. Many needy veterans, children and others will receive help from the funds.
Every Elk who dealt with the Blue Blues Production team was impressed with their efficiency and positive attitude, Beau said. They had friendly but vigilant security guards the entire time, and provided valet parking for our Elks during our large Wednesday steak dinner.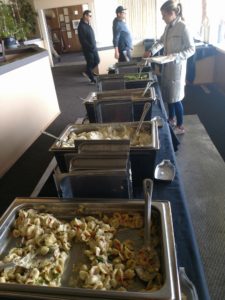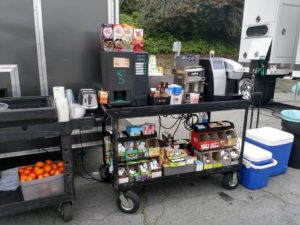 At noon Wednesday, film serving staff whisked hot trays of salmon, chicken, mashed potatoes, green beans, peas, baby corn, etc. into chafing dishes set on tables they had set up in the Elks dining room earlier in the day, covered with black table cloths, and carried cold salads and desserts into 10 covered containers in another buffet line. A drink table held several choices. There was even ice cream!
Then the crew got back into the numerous vans and left to film the crash scene on S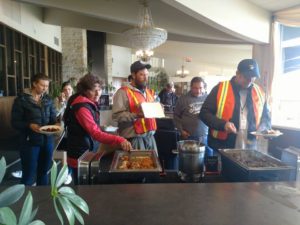 kyline Drive. Every dining room table (and even the windowsills) was wiped down and the carpet was vacuumed. Each chair was placed back around the dining tables.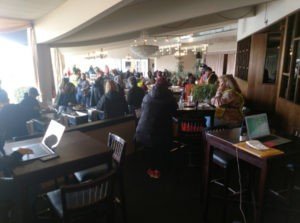 And every single staff member technicians, cooks, trash crew, executives had a smiling face and a kind word for each other. They even invited the Lodge office crew and bar patrons to fill plates before it was cleared away.
What's more, everything was left spotless. Plastic runners covered the dining room carpet along the buffet lines, and they were in and out of the dining room in little over an hour! They had numerous trash containers and emptied them frequently.
So thanks to Sam Gomez, the Blue Blues Production location chief. It was a pleasure to work with you come back any time!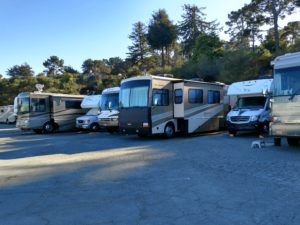 As most CHEA Elks know, Monterey has a fairly spacious RV-parking area. The film trucks used about a third of the lot, at the end nearest the Elks apartments. RV parking was not allowed only for the two days while the film crew was there. The crew marked off their area with red cones on Monday evening, ready for the big trucks and vans to arrive.
This is the second installment of Big Little Lies, based on Liane Moriarity's bestselling book. The darkly comedic series tells the tale of three mothers whose seemingly perfect lives unravel to the point of murder.
Original cast members Reese Witherspoon (Madeline MacKenzie), Nicole Kidman (Celeste Wright) are returning, along with Shailene Woodley (Jane Chapman), Laura Dern (Renata Klein), Zo Kravitz (Bonnie Carlson), Adam Scott (Ed Mackenzie), James Tupper (Nathan Carlson), Gordon Klein (Jeffrey Nordling), Kathryn Newton (Abigail Carlson), Iain Armitage (Ziggy Chapman), Robin Weigert (Dr. Amanda Reisman), Merrin Dungey (Detective Adrienne Quinlan), and Sarah Sokolovic (Tori Bachman) are all set to reprise their roles.
Meryl Streep has joined the cast as Celeste's mother-in-law, Mary Louise Wright alongside other newbies, Bonnie's mother Elizabeth (played by Crystal Fox) and second-grade teacher Michael Perkins (actor Mo McRae). Additionally, director Andrea Arnold (American Honey) will take over behind the camera.
The drama will continue to explore the malignancy of lies, the durability of friendships, the fragility of marriage and, of course, the vicious ferocity of sound parenting. Multiple characters will be dealing with Perry's death, and the prospect of moving past a life-altering event. In short: Things could get messy.
There will be seven episodes. Season 1 writer David E. Kelley will be tackling each script, based on a story by best-selling author Liane Moriarty. Reese Witherspoon and Nicole Kidman will return as executive producers for the series Kidman through Blossom Films and Witherspoon through Hello Sunshine along with Arnold, Kelley, and Season 1 director Jean-Marc Valle. Additional executive producers will be Per Saari, Bruna Papandrea, Nathan Ross and Gregg Fienberg.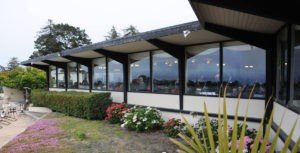 The Monterey Elks Lodge #1285 was officially instituted at the Hotel Del Monte on July 24, 1912. The over-800 members of today's Monterey Elks Lodge wholeheartedly believe in the Elks motto: Elks Care and Elks Share.
Members contribute generously of their time and money to numerous charitable events, helping with veterans, youth "Hoop Shoot" free- throw contests, scouting, scholarships, disaster relief, drug awareness and other programs. Our Purple Pig project provides in-home speech therapists, occupational therapists, vision and physical therapists to children who may not otherwise receive it.