JUMP ON THE BUS IN 2023 AND HELP THE KIDS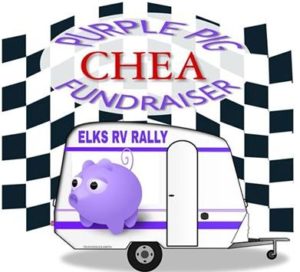 Plan now to attend the 55th Annual
California Elks Rally

October 12-15, 2023
Golden Village Palms RV Resort Hemet, California
You do not have to be a camper or an Elk to attend. Come and enjoy a weekend of food, fun, games, tournaments and just plain old camaraderie while we raise money for the Kids (California-Hawaii Elks Major Project).
Come for the day, Camp for the weekend, or stay in one of several hotels within walking distance!

For more information go into www.elksrally.org or contact your Lodge Purple Pig Chairman.
California Elks Rally History
The California Elks Camper Rally started in 1968 as the Southern California Elks Camper Rally. The goals of this Rally are for campers and friends to gather together for a weekend of food, fun, games, contests and camaraderie; with the final objective of raising money for the California-Hawaii Elks Association Major Project, i.e. the Purple Pig.
The interest and participation in the Rally has increased tremendously over the years and we arrived at a point where it was believed that the name Southern California Elks Camper Rally no longer reflected this progress. In 1998, a name change to the California Elks Camper Rally was made to better reflect our growth and the statewide participation we enjoy. At the present time we have participation not only from the Lodges in the State of California but also from beyond its borders.
For schedules, membership and more visit www.elksrally.org