Lake Almanor Lodge #2626 Provides Dictionaries To Students At Chester Elementary School
October 10, 2012 Lake Almanor Lodge #2626 presented the third grade class at Chester Elementary School with their own dictionary. Bill Zeller, an Elk of Lodge 2626 funds the program for the school.
Rick Fotchman hooked the kids and grabbed there attention when he pointed out to them that they had a variety of future of educational funding opportunities via the Elks and other organizations by placing a $1.00 bill on the page with the word, Scholarships. Along with the Most Valuable Student Scholarship the Elks also provide Vocational Grants and an Undergraduate Scholarship Program for Students with Disabilities.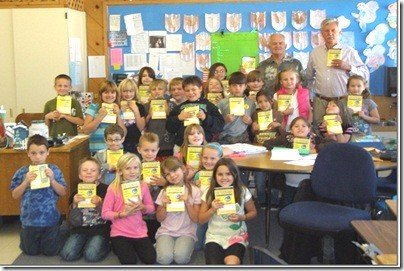 We had a ball with the kids and everyone was very receptive and everyone was very appreciative.
Last row Rick Fotchman, Dictionary committee , Dave Aitken Chairmen of the Dictionary committee.