South Coast District & Chili's Restaurants Raise Money for Major Project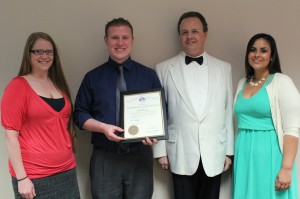 (L to R) Robin Wiebe, Chili's employee; Mike Baskin, Manager, Chili's; Steven Wagstaff, Exalted Ruler; Michelle Lahue, Chili's employee.
South Coast District, CA, lodges working in conjunction with Chili's Restaurants sponsored a fundraiser for their state's major project, which provides vision screening to preschool children and in home therapy to children with special needs. The two day event raised $850. Taking the lead in this event was Exalted Ruler Steven Wagstaff, from Escondido Lodge No. 1687, who began this idea by working with the manager at the Escondido Chili's Restaurant. Then he progressed to working with all three managers, including the general manager, and finally the San Diego area manager. This "give back†event was held on January 13th and 14th, 2014. With each flyer presented at purchase, Chili's donated 15% of their event day sales back to the California-Hawaii Elks Major Project. Over 280 people participated in this event. Future plans are to make this an annual fundraiser for the district.