Space Shuttle Endeavour Flies Over Buena Park Elks Lodge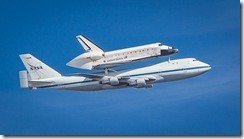 And a great bird will take its first flight upon the back of the great swan, filling the whole world with amazement, filling all records with its fame; and it will bring eternal glory to the nest where it was born. —Leonardo da Vinci—1452-1519
On Friday, September 21, 2012, many of us observed the Space Shuttle Endeavour which is named in honor of HMS Endeavour, the British warship which took James Cook on his first voyage of discovery in 1768.
The Endeavour made her last flight over Los Angeles and Orange County flying low at approximately 1,500 ft. in some instances. She flew directly over the Buena Park Lodge #2046 and we nearly missed it as we were tracking her flight on the television. People were amazed as Endeavour flew over their towns one last time. "She was so low, I thought I could reach out and touch her," said one awestruck onlooker. It was a sight to behold, to see Endeavour riding high and atop the Boeing 747.
I could not help but think of the quote I read by Leonardo da Vinci of a great bird riding upon the back of a great swan. He certainly was a man of vision, and is still considered the greatest genius of history. It seemed appropriate to mention that this type of space flight had been envisioned by Leonardo da Vinci more than 500 years ago.
Leonardo da Vinci, 1452–1519, was an Italian Renaissance genius of all aspects. He was a painter, sculptor, architect, musician, scientist, mathematician, engineer, inventor, anatomist, geologist, cartographer, botanist, and writer.
He was born out of wedlock to a notary, Piero da Vinci, and a peasant woman, Caterina, at Vinci in the region of Florence. One day Leonardo's father noticed that he was drawing, realized his obvious talent and took Leonardo to Florence where he began his studies with the renowned Florentine painter, Verrocchio. He crisscrossed the globe as he knew it then, Florence, Rome, Bologna, Venice and Milan. His final home was in France.
Leonardo was and is renowned primarily as a painter. Among his works, the Mona Lisa is the most famous and most parodied portrait and The Last Supper the most reproduced religious painting of all time. Leonardo's drawing of the Vitruvian Man is also regarded as a cultural icon, being reproduced on items as varied as the euro, textbooks, calendars and T-shirts.
About fifteen of his paintings survive, together with his notebooks, which contain drawings, scientific diagrams, and his thoughts on painting and nature. He was very interested in the flight of birds and bats and spent considered time learning about their flight.
Leonardo conceptualized a flying machine, glider, helicopter, a tank, cannon gun, parachute crossbow, lens grinder, machine gun, scaling ladder, automobile (powered by springs) a parachute, concentrated solar power, a calculator, the double hull, and he outlined a rudimentary theory of plate tectonics. With over thirteen thousand pages in his lifetime, there are still notes and diagrams that have yet to be studied.
Leonardo's vision of a great bird flying upon the back of a great swan came to life while I watched the Endeavour make her last two farewells by flying a few thousand miles crisscrossing the US. Then, she was transported (towed) to her final home traveling just .01 percent of the 17,500 miles per hour she once had to fly to slip the surly bonds of Earth's gravity. She flew 25 missions to outer space. 4,671 orbits around planet Earth before her farewell tour. The Endeavour will nest at the California Science Center not far from where she was born in Palmdale, California.
By Pat Fusco, Inner Guard and Publishing Editor of the Bulletin, Buena Park Elks Lodge 2046