Fullerton Lodge No. 1993 "Special Child of the Month"
Fullerton Elks Lodge No. 1993, and Exalted Ruler Phillip Marquez, are proud to be a sponsor in lending a helping hand to the community each month by selecting a Special Child with special needs. This month the Elks selected Jenna Berkeley, a 9-year-old child with medical issues too numerous to mention and was officially diagnosed as mentally challenged. However, she does communicate and her skills are improving.
The Elks Lodge invited her family to a full dinner and a special presentation by the member Elks of several gifts, such as; an Ipad ll, to help her with her reading skills, and dexterity, two beautiful Elks key chains, a framed certificate and a bouquet of flowers to her mom, Tracy Berkeley.
Jenna was born asleep and she slept much of her first six months. She was unable to eat and was thin, and she cried all the time. She would turn blue and start choking. Jenna could not move the muscles in the mouth or her tongue. At six month of age, her mother took her to a chiropractor and he re-aligned her spine. Immediately there was color to her cheeks.
She had her first surgery when she was 18 month old. Jenna was actually tongue-tied. The tip of her tongue was still attached to the inside of her mouth. After the surgery, and occupational therapy to teach her how to use the muscles in her mouth, she learned to speak, and for the first time she told her mother she was hungry.
At three years of age she had surgery for a lazy eye. The surgery had to be redone twice, but at age eight she finally had normal vision.
Jenna is in 4th grade, but academically she is at 1st grade level. She does not know the alphabet and she can't read.
Amazingly, Jenna does have one very special talent. She has an internal GPS. Once she goes somewhere once she can always get back to that place again. Her mother, says, "she helps me with directions.â€
Jenna's mother, Tracy, hopes that some day she will be able to live independently and her purpose in life is to make that happen.
Others in her family are mother Tracy, her father Chris, and brother Kyle. Kyle might look familiar. He was the Elks "Teenager of the month†a few years ago.
(L-R) Irene Imhof, Co-Chair; Chris Berkeley,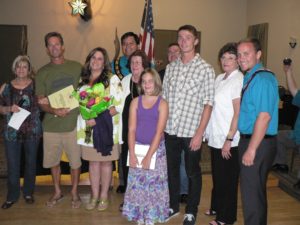 Father; Tracy, Mother; Phil Marquez, Exalted Ruler; Jenna Berkeley, Special Child; Steve Marciano; Kyle Berkeley, Brother; Gerri (Bubba), Grandma; Karla Green; Miles Siegel.