Elks Lodge Marches in Lake Forest, CA Independence Day Parade
Mission Viejo/Saddleback Valley Elks Lodge No. 2444 ("Elks Lodge") honored vets during its fourth year of participation in the Lake Forest, California Independence Day Parade. The seventy-five (75) member Elks Lodge delegation was led by the Elks Lodge Charity Banner with members of the Lodge's Boy Scout Troop 603 carrying the American Flag and other patriot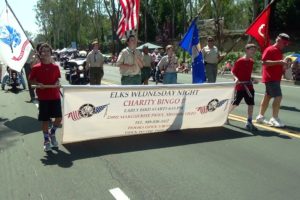 ic flags. The scouts were followed by Elk members and their families. Elk Members from all Saddleback Valley communities marched in the parade.
The marchers were followed by thirteen (13) bikers from the San Juan Capistrano Eagles and six (6) convertibles and sports cars carrying eight (8) military veterans from World War II, Korea and Vietnam. At the back of the Elks Lodge delegation was OCFA Fire Truck, "Big John 2", driven by retired Laguna Beach Fire Captain Harvey Boelts. Mr. Boelts is a Past Elks Lodge President and currently serves as California-Hawaii Elks Association Vice President for the Orange Coast District. With siren engaged and the broadcasting of recorded messages about fire safety, Big John 2 was a "Big Hit" with the crowd lining the parade route.
David McLeod, an Elks Lodge vice president and chairperson of the Elks Lodge parade committee said, "The Elks Lodge members and their supporters extend their thanks to the Lake Forest community for inviting us and many other worthy groups to participate in this Independence Day Parade. Also, tremendous thanks go
to the OCFA for the use of the Big John Fire Engine. John Adams and the other founding fathers would be proud of this parade celebrating our nation's independence."
After the parade, the marchers went back to the Lodge for a barbeque where over 160 meals were served. More than twenty (20) Lodge volunteers helped organize and run the parade and barbeque.