Vacaville Elks Lodge No. 2638 donates ENF Gratitude Grant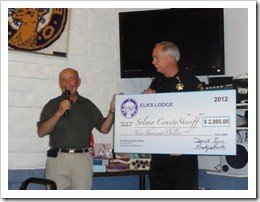 The Vacaville Elks Lodge No. 2638 donated a $2,000 ENF (Elks National Foundation) Gratitude Grant to the Solano County Sheriff's K-9 program. The funds will be used to assist with veterinary bills and offset some of the costs of purchasing protective vests for the K-9's. The K-9 unit depends on public donations to fund these two necessary expenses.
The Gratitude Grant award was presented to Sheriff Gary Stanton, and members of the Solano County Sheriff's department, Under Sheriff Tom Ferrar, Deputy Mark Demarest, Deputy John Swafford and his K-9 partner, Basco at the lodge's Friday night dinner which was attended by 60 Elks and guests. Sheriff Stanton presented the Lodge with a framed certificate of appreciation for the Elks donation.