Petaluma Elks Lodge #901 – A Hero's Welcome with Special Dinner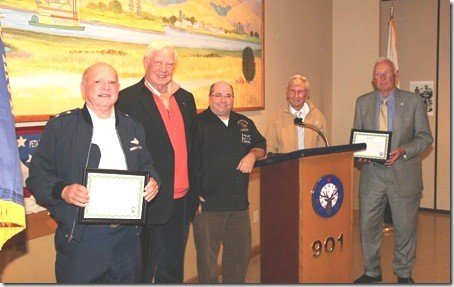 Many individuals have never experienced the opportunity to meet a real life Hero. However the Petaluma Elks Lodge #901 had the unique opportunity to welcome into our midst four distinguished Korean War Heroes – Major General Norman DeBack, USAF Ret., Brigadier General Robert "Earthquake" Titus, Colonel John Lowery USAF Ret., Major Jim Brooks, USAF Ret. These four are the most distinguished, experienced and heroic pilots of our age having accomplished more to advance the cause of freedom, and promote the advancement of aviation than can be summarized in any volume of the encyclopedia. They are all esteemed commanders in their own right, having shared experience in WII, Korea and Taiwan as well as all being top flight combat fighter pilots and celebrated airmen of the highest caliber.
These heroes were part of the City's weekend's events. They were escorted by veterans on motorcycles into town displaying our country's flags to honor their presence before they marched in the Veteran's Parade downtown. Additionally before joining us at the Elks Lodge, they were the featured speakers at the Veteran's Hall in Petaluma during a symposium where they met and spoke with the public as well as signing autographs. As part of the opening ceremonies of the traveling Vietnam wall in Sonoma County we were thrilled that they were available to take part in our lodge activities.
During the dinner program at the Lodge, each of our honored guests spoke about moments in their history and shared the challenges and successes from each perspective. It was riveting to hear their accounts on the Forgotten War. Additionally, General Titus's daughter spoke so warmly about her father.
We were also pleased to have famed author George Marrett in attendance that evening. Marrett wrote the story of Howard Hughes, known to movie goers as "The Aviator" (with Leonardo DiCaprio in the title role and Kate Blanchett as Katherine Hepburn). He spoke about the great accomplishments these men preformed in their distinguish careers.
Before leaving the Lodge that evening all four came up to our Exalted Ruler and expressed appreciation and kindness toward our Lodge and the presentation. After a long weekend of activities, they mentioned it was great to be with such a patriotic order and to have a home cooked meal.
Over 90 members, their families, friends and community members attended this once in a life time event. It was a great honor and a very auspicious occasion to have such distinguished heroes as guests for dinner and a short lodge program. Exalted Ruler Randy Logan gave each military officer a proclamation which states: "We will never forget the forgotten Korean War.â€
Note: A few days later it was very gratifying when the person who asked for our help to recognize these men sent a message to our lodge expressing gratitude and positive sentiments from the four regarding the efforts of our Lodge.
Submitted by Pamela Tarango Petaluma Lodge PR Chair
Pictured above from Left to Right and holding their proclamations are: Major General Norman DeBack, USAF Ret., Brigadier General Robert "Earthquake" Titus, Exalted Ruler Randy Logan, Ret. USAF, Major Jim Brooks, and USAF Ret. Coronal John Lowery USAF Ret.