Merced Elks Lodge #1240 Serves Lunch At The County Fair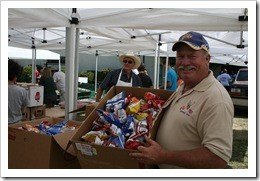 The Merced Elks Lodge #1240 participated with the Merced School District, the Merced County Fair Board and the Merced 4-H to enhance a fun filled day for some 800 special needs individuals from the Merced County area during the 2012 Merced County Fair.
Under the leadership of member John Burk, along with a crew of fifteen Lodge members, they started early in the morning at the Lodge preparing hamburgers and gathering the items needed. All to provide the lunch for those special needs individuals who were enjoying the sights and sounds of the County Fair.
Once everything was prepared, the members transported the food to the Fairgrounds. Along with 4-H members, Fair Board staff and School District employees they delivered a wonderful picnic lunch to approximately 800 guests.
The fair picnic lunch is an annual project of the Merced Lodge No. 1240 and one of the most rewarding for all those involved, a true expression of Brotherly Love!
Pictured above: Gary Hamon and PER Vern Warnke set up the serving lines at the Fair for the Special Needs Individuals of Merced County.