Recipient of ENF Founder's Certificate at 2013 Mid-Term Conference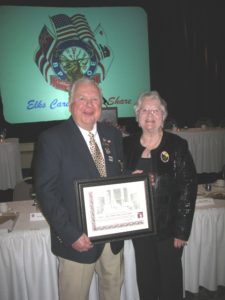 John A. "Jack" Parker, Past Grand Trustee, with his wife Jo by his side, was presented with CHEA's annual ENF Founder's Certificate at the CHEA Mid-Term Conference on November 3, 2012.
Each year, the Elks National Foundation strives to grant more money back to each state than it received from that state in donations. These grants help fund the state Elks associations' major charitable projects, which include aid for people with disabilities, cancer research, children's hospitals, youth camps and safe havens for abused families. The state associations also use these grants to fund their "Hoop Shoot," Soccer Shoot, Drug Awareness and scholarship programs, as well as other charitable and philanthropic projects.
During the 2011-12 Lodge year, the Elks of California-Hawaii donated $698,797.84 to the Elks National Foundation. This year, the Foundation will give back the following:
State Charities Grant – $482,060.00
Special Projects Grant – $412,980.00
Bonus Grant – $123,920.00
These grants support California-Hawaii Elks Major Project, as well as other philanthropic projects. Portions of these grants will also support our Drug Awareness Program, Hoop Shoot, and educational programs.