RIDGECREST ELKS NO. 1913 RECEIVE VETERAN'S PROCLAMATION
Pictured (L-R) are Ridgecrest Mayor Dan Clark, PER Sam Brown, and ER Ken Dalpiaz.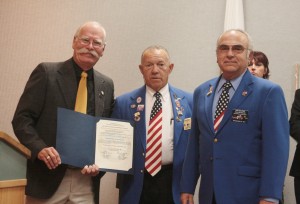 During a Ridgecrest City Council meeting, Mayor Dan Clark presents Veterans Affairs Chairman, PER Sam Brown and PER Ken Dalpiaz, the Ridgecrest Elks Exalted Ruler, with a City Proclamation honoring Elks National Veterans Remembrance Month.  Mayor Dan Clark is also a member of the Ridgecrest Elks Lodge located in the California Mojave Desert. 
Ridgecrest No. 1913 recently teamed with the Victorville No. 1877 to provide the Re-Creation USA Entertainers lodging and their food for another great show at the Barstow Veterans Home located in Barstow, CA.
Ridgecrest Lodge was also a participant in the 2nd Annual Ridgecrest Veterans Stand-Down.  Re-Creation Entertainment Group operates on our donations and entertain our Veterans throughout the USA. See them at http://re-creationusa.org/