Orange Coast District Elks Sponsors Monthly Bingo with Veterans
Huntington Beach Lodge No. 1959 and Westminster Lodge No. 2346 from the California Orange Coast District call Bingo for veterans at the Long Beach, California Veterans Hospital.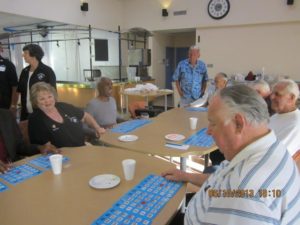 The Orange Coast District sponsors Bingo monthly at the Veterans Hospital. Nine (9) Elk members hosted bingo for twenty-three (23) Veterans. Prizes were awarded and refreshments were served. Â $325.00 was spent for refreshments, prizes and miscellaneous items.
Photo Caption: Â (L-R) Earlene Grimes (Westminster lodge member), Pat Riggs – standing (Westminster lodge member), Tom Brown – standing (Huntington Beach lodge member) Foreground: Â Veteran Lee Marlatt.