Lodi Elks Lodge #1900 Honors Veterans During Memorial Day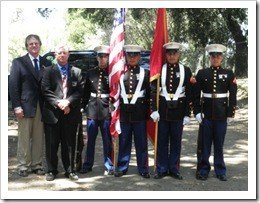 Pictured are (L – R): The Honorable Louis (Jim) Grillo, PGER, Mike Dugan, Exalted Ruler, and the U.S. Marine Corp Color Guards of Lathrop.
Lodi Elks Lodge #1900, along with the Woodbridge Masonic Lodge, held a Memorial Day service on Monday, May 28th, at the Masonic Cemetery located in Woodbridge. Mike Dugan, Exalter Ruler and Marine veteran, was the master of ceremonies. Guest speaker was the Honorable Louis J. (Jim) Grillo, Past Grand Exalted Ruler. Present were the U.S. Marine Corp Color Guards of Lathrop, who put on a presentation of colors (flags). Also present were the Lodi Community Band, lead by Robert Gross, who not only played a beautiful rendition of taps, but the band played musical scores of the armed forces theme songs. There was the laying of wreaths by the American Legion–Lodi Post #22 & Auxiliary, Disabled American Veterans–Lodi Chapter #59, Pearl Harbor Survivors–Chapter#10, Delta Chapter of the American Ex-prisoners of War and the V.F.W. Boy Scout Troop #291 placed flags on the graves of fallen soldiers. Suzanne Henderson, Esquire, lead the Pledge of Allegiance and Eileen Dugan, Inner Guard, gave the opening and closing prayers. There was a free lunch for all Veterans held at the Lodge prior to the ceremony. Volunteer Pauline Meyer cooked the meal and was assisted by many other Elk volunteers.