Cancer Takes A Holiday At Pediatric Oncology Kids Carnival
Elks Lodge Holds Carnival for Pediatric Oncology Patients
On Sunday, May 20, 2012, Mission Viejo / Saddleback Valley Elks Lodge No. 2444 ("Elks Lodgeâ€) held a festive carnival for Pediatric Oncology Patients ("Childrenâ€) and their families who are supported by Orange County Foundation for Oncology Children and Families ("OCF-OCFâ€). For a few hours, on this day, the Children and their families could enjoy time away from the effects of their illnesses and chemotherapy, radiation and other medical treatments.
All children and their families were provided with a t-shirt with figures of two children holding hands and saying, "We Have Friends at The Mission Viejo Elks Lodgeâ€. The Children quickly found the Lodge patio and the colorful tent canopies where they immersed themselves into typical carnival games such as ring toss, bean bag toss, milk bottle bash, yellow ducks floating in water, etc. At each of ten game stations, each child won a prize for participation in that game. The Children also enjoyed a bounce house and crafts. The Laguna Woods Senior Clown Alley Group made balloon figures and painted faces in the Lodge game room.
All attendees enjoyed typical carnival food: lemonade, snow cones, cotton candy, chicken nuggets, corn dogs, French fries and sweets. In addition to game prizes and upon their departure, each child picked out a "special†gift from a selection of DVDs, stuffed animals, games, cuddle blankets and craft sets. The event was organized by Elks Lodge member Stephanie Bongartz who late last year held a fund raising dinner at the Elks Lodge to help pay for this event. Additional funds and gifts for this event were derived from the Elks Lodge Bingo operation, Bongo Ink of Lake Forest and other fund raising events involving individual Elks Lodge members. Seventy-Nine (79) volunteers including fifteen (15) youth from Saddleback Valley area schools helped run the event.
Hal Mattson, Lodge Publicity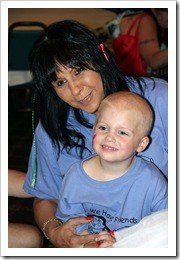 Pictured left: Elk Carnival Committee Member Marzena (Basia) Bills with
Little Raelyn Beckler, Diagnosed with Leukemia on February 10, 2012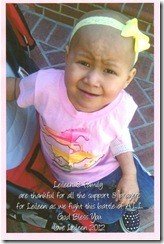 Pictured right: Thank You Card to the Elks Members
from 4-year Old Leileen Garcia.