Elks Lodge Boy Scout Troop Performs at Memorial Service Held for Seventeen Members from Seven Communities
Elks Lodge Boy Scout Troop Performs at Memorial Service Held for Seventeen Members from Seven Communities
Mission Viejo-Saddleback Valley Elks Lodge No. 2444 ("Elks Lodgeâ€) held its annual memorial service ("Serviceâ€) to remember seventeen (17) of its members that passed away during the past year. The departed honored members and the city of their residence were:
Lake Forest: Larry Cucinella and Karen Casey
Laguna Woods: Jim "Coach†Amthor, Cyrill Jakubka and Nelly Schiphorst
Mission Viejo: Howard Ames, Kasey C. Koch, Richard McCullough, Paul Nester, William Quinn, Richard Reavis, David Rukstalis, Sr. and Beverly White
San Clemente: John Welther
San Juan Capistrano: Donald L. Ickes
The Service was attended by Elks Lodge members, friends and family of the departed. Fronting the podium were a poinsettia, flora wreath, seventeen white candles and Elks Lodge Emblems. The Service was opened with the presentation of the colors by Boy Scout Troop 603 and a welcoming message from Exalted Ruler Harvey Boelts. As each deceased Elks Lodge member's name was announced by Secretary Lorene Tierney, a candle was lit by Chaplain Christine Jones or a family member of the departed while chimes were struck by Inner Guard Matt Williams. Sharon Scott sang Amazing Grace. Throughout the Service, music was provided by Elks Lodge Organist, Andy Costello. The Memorial Service was closed with the playing of Taps by Elk Ray Mallen and the recitation of the Elks Eleven O'clock Toast by Harvey Boelts reflecting an Elk creed: "Elks are Never Forgotten, Never Forsaken.â€
Â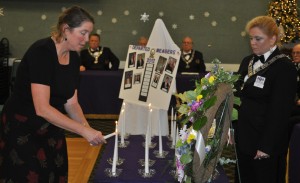 Photos provided by Elks Member Dennis Lumley
(L to R): Camacho Alvarez
(Lecturing Knight),
Andy Costello (Organist), Boy Scout Troop 603 members
and Harvey Boelts (Exalted Ruler).
Kyra Starkey (Daughter of Nelly Schiphorst)
and Christine Jones (Chaplin).