Yucca Valley Elks Lodge Honors Local Students
On June 17, 2016, the Yucca Valley Elks Lodge No. 2314 had the pleasure of recognizing students from the local Morongo Unified School District schools west of Joshua Tree, CA. Each student was treated to dinner with their family and received a "Most Outstanding Student†certificate from their respective schools.
The Lodge's Past Exalted Rulers and the Emblem Club provided the dinner and dessert to the guests.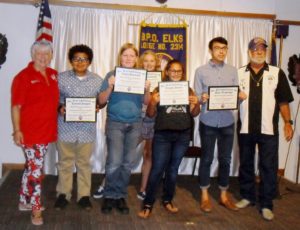 L to R: ER Carol Lieser, Raymundo D. (Friendly Hills Elementary), Nathan S. (Landers Elementary), McKenna L. (La Contenta Middle School), Amanda B. (Yucca Valley Elementary), Dan A. (Yucca Valley High), Carl Angdahl, Lodge Youth Activities Chairman. Not pictured were: Gabriella J. (Joshua Tree Elementary), Deja N. (Onaga Elementary), and Christopher D. (Yucca Mesa Elementary)