Escondido Elks Lodge Sponsors Veterans Fishing Trip
On July 21, 2016 fifteen Escondido Elks Lodge No. 1687 members accompanied 27 disabled military veterans, their staff and aides on a sport fishing trip in the Pacific Ocean aboard the vessel Double Down. Â This event included space on the boat, bait, tackle and lunch for our service members. Â The outing was a huge success as 83 Calico Bass were caught. Â Lodge PER Glen Foss hauled in the catch of the day – a 50 lb. White Sea Bass.
The conversations with the hospital patients were emotionally rewarding, as many had not been on an ocean going vessel in a long time, let alone caught fish. Â The feedback received from Ellen Berman, the VA Hospital Recreational Therapist, was that both events were very successful and all attendees had a wonderful time.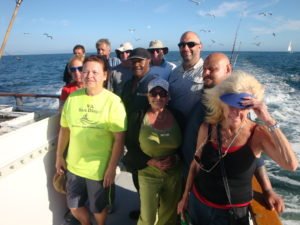 Some Lodge members, VA staff and volunteers