Mission Viejo-Saddleback Valley Elks Lodge Celebrates City's Anniversary
Mission Viejo-Saddleback Valley Elks Lodge ("Elks Lodge") was among a group of significant community volunteer organizations invited to have a large booth at the Mission Viejo Anniversaries celebration. Mission Viejo celebrated 50 years as a community and 25 years as an incorporated city.
At the booth, Elks volunteers conducted
spin-the-wheel
and
bathroom tissue toss
games for the kids who earned prizes. The books, CDs, toy stuffed animals and other small prizes were donated by Bongo Inc. of Lake Forest. The games were just as popular with adults who enjoyed tossing the tissue rolls. The eighteen (18) Elks volunteers also handed out American flags and Elks anti-drug literature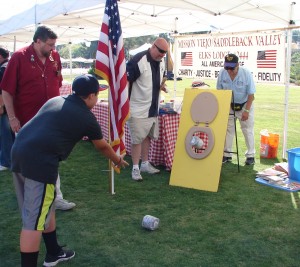 .
Photo Caption: Jared Greenwood of Mission Viejo scores in "tissue toss" at the Elks Booth. Cheering him on are (L to R) Elks House Committee chairman Ray Mallen, Lodge Vice President Derek Randles and Past Lodge President Hal Mattson.