PRESIDENT RICHARD MC DONALD'S APRIL/MAY MESSAGE
Hello and Aloha,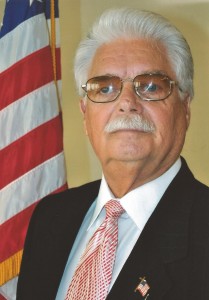 As this year comes to a close, let me take this opportunity to say "Thank You" to the members of the California-Hawaii Elks Association for letting me be your President for this past year.  It has been an honor and a privilege that I will never forget.
During the past year, Claudette and I traveled to all nineteen Districts in the California-Hawaii Elks Association as well as Arizona, Nevada, Utah and Massachusetts in our visits to over 80 local Elks Lodges.  We were greeted with a warm welcome everywhere we went.  The friendships that we have made will last a lifetime.  Our Vice Presidents are outstanding – each one has lived up to my slogan "ELKDOM, PASS IT ON" by Passing Elkdom On in their own Districts.  It was an honor to have served with each of them.  They have become family to Claudette and I, and they will be in our hearts forever.
It will be with a sense of pride when I look back on this year, for the Lodges in this great Association accomplished so much during the year.  They slowed the loss of membership almost to a stop.  They created new activities for their members and continue to support our youth.   Every Lodge in our Association continues to remember and serve our veterans.  Each Lodge, through their words and deeds, demonstrates that the Elks continue to abide by the Cardinal Principals of our Order – Charity, Justice and Brotherly Love – and, in so doing, help all mankind.
No President can do this job alone.  There are so many people behind the scenes that help make it possible to have a successful year, and I would be remiss if I didn't say thanks to them: the Grand Lodge Sponsors of Area 7 (PGERs Ken Moore, Jim Grillo, Tom Brazier and the late Don Dapelo); PGELK Tim Martin, our Executive Director, and the CHEA staff in the Fresno office; the Pittsburg Elks Lodge No. 1474 and the Central District; Ed and Kay Johnson, who were there to help every step of the way, and, of course, to my First Lady, my wife, Claudette, for without  her support and encouragement none of this would have been possible.
As this new year begins, I know that our great Association will be in the capable hands of your new President, Floyd "Skip" Henke and his First Lady, Karen.  Once again, I say, "THANK YOU, THANK YOU," for allowing me to be your President.  It has been an honor that I will cherish for the rest of my Life.
Sincerely and fraternally,
Richard L. McDonald, President
California-Hawaii Elks Association