Be a recurring donor and star in each issue
of The California-Hawaii Elk Magazine!
Keep it simple – become a recurring donor for the Major Project and see your name in print in each issue of The California-Hawaii Elk Magazine and receive your Recurring Donor Pin after your first donation is received!!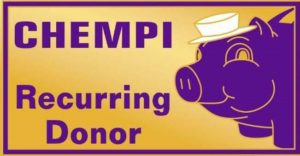 Would you like to contribute to the Major Project more often? What if you could donate without writing a check, buying a stamp and addressing an envelope each time? You can make it simple by signing up to be a recurring donor! We can automatically charge a credit card on a recurring basis for a set donation amount of $5 or more. There are no checks to write or envelopes to mail. It's safe, reliable, and allows us to spend less time on administration and more time on our charitable mission. A receipt will be emailed to you after every transaction for your records. Recurring donors are very important and special donors who will be recognized in each issue of the magazine.
In 2009 the Recurring Donor Program was created with a total of seven donors. As of today, we have 257 recurring donors for a total of $5,392 each month going to the Major Project, increasing the donors accumulative totals as well as the Lodge's Exalted Rulers March total and that equates to a potential $68,304 for the Exalted Rulers March to be held in Palm Springs 13-16, May 2020!
Wow, see how easy this really is? Sign up today. Go online to www.chea-elks.org/dev/major-project/donations/ and then click on Make a Recurring Donation to CHEMPI or call the CHEA office at 1-800-742-1907 to set up your recurring donation today! You can also find the Recurring Donor form online at www.chea-els.org/You will receive your Recurring Donor Pin after your first donation has been received!