Pearl Harbor Survivor Honored at South San Francisco Lodge No. 2091
On September 15th, South San Francisco Lodge No. 2091 held a 90th birthday party for a Pearl Harbor Survivor and an Elk member for over 37 years, Mark Loorya. The event was hosted by Rosalyn Beauchamp, Mark's longtime companion and a trustee of that lodge. In attendance were fellow veterans, Elk friends and family members.
Mark served on the U.S.S. Dobbin from 1941–1945 as a machinist mate 1st Class. He was waiting to go on shore when the bombs started falling the day of Pearl Harbor's attack. After the shock of seeing what was happening and not knowing what was going on, the officer on deck announced all hands on deck go to general quarters. Mark immediately secured the metal rack (where metal was stored for parts and reparations to other ships) and secured all port holes. He then passed ammunition to the gunners. Needless to say, he never got to go on shore, as he jokingly puts it.
Mark is still active on the Thursday work crew at his lodge doing whatever repairs the lodge may need.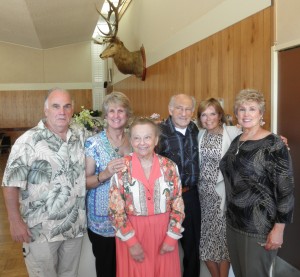 Pictured at right: (L-R) John Junier, Exalted Ruler; Nancy Steinberg,PER of Stockton Lodge No. 218 and Mark's daughter; Roslyn Beauchamp, Trustee and companion to Mark; Mark Loorya, Pearl Harbor Survivor; Sylvia Warnes, PDDGER; and Eileen Dugan, District Public Relations Chairman from Lodi Lodge No. 1900 and Mark's other daughter.