Temecula Elks Honor Law Enforcement Officers and Fire Fighters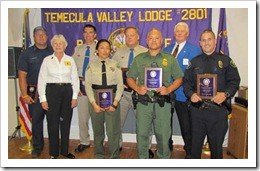 Each year the Temecula Valley Elks Lodge #2801 honors sworn Police Officers and Firefighters who have demonstrated a willingness to go above and beyond the call of duty to provide a safe environment for the citizens of our community. This year's event was attended by over 90 Officers, Firefighters, their families and colleagues along with members of the Lodge. This is one of several events hosted by the Temecula Valley Elks Lodge each year to recognize citizens and students around the valley, who help to make this a better place to live and work. For more information about the Benevolent and Protective Order of Elks please call (951) 695-7470 or visit our website at: www.temeculaelks.com.
Back Row Left to Right: Engineer/Paramedic Sean DeGrave; Elks Lodge Exalted Ruler Marti Barraza; CHP Officer Dan England; CHP Officer John Garcia; and Elks Lodge Event Chairman Bob Walker. Front Row Left to Right: Temecula Police Department Community Service Officer Caroline Zachary; Border Patrol Agent Nicolas Garcia; and Murrieta Police Officer Derek Huss.