2012 Orange County Stand Down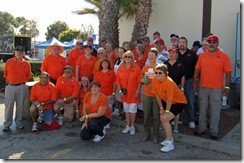 The annual Orange County Stand Down was held at the Army Reserve Center in Costa Mesa, CA.
What is a Stand Down? The definition provided by the Veterans Village of San Diego: "In times of war, exhausted combat units requiring time to rest and recover were removed from the battlefields to a place of relative security and safety. Today, Stand Down refers to a community-based intervention program designed to help the nation's estimated 200,000 homeless veterans "combat" life on the streets."
All these services are provided to the veterans: Medical, Dental and Vision Exams and Care, Mental Health and Substance Abuse Counseling, Veterans & Social Security Benefits Identification and Assistance, Employment and Housing Assistance, Legal Assistance and Homeless Court and Children's Services.
"As long as there is a Vet, the Elks will never forget" Saturday morning 28 members of the Orange Elks Lodge #1475 cooked scrambled eggs, sausage patties, pancakes, coffee, fruit bowls and orange juice for 160 veterans and 150 volunteers and helpers. Elks members from Fullerton, Santa Ana, Newport Harbor and Buena Park assisted.
"The National Award Winning Orange Elks Lodge is committed to supporting our veterans and the local community through its benevolent works. For more information on Elks Charities or membership in the Order, call…..714.538.2168"
Note: No pictures were allowed of the homeless veterans. Pictured are the Orange Elks who helped on the breakfast.