IN MEMORY OF JOHN F. BERGER, VICE CHAIRMAN, BEQUESTS & LIVING TRUSTS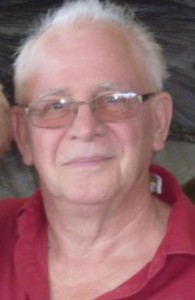 John F. Berger                        
(March 15, 1941 – June 26, 2014)
(Obituary compliments of Habing Family Funeral Home, Gilroy, CA)
John passed away at home surrounded by his wife and family. He fought a short but valiant battle with cancer.
John is survived by his loving wife Phyllis, their children, Torie Charvez (Adam-deceased), Sharon Lufkin (Lyndon), Kim Schmidt (Danny), Kris Roscoe (Barry), Joe Avina, John Avina (Lauretta) and Vickie Avina. He leaves behind his grandchildren: Daphne and Laynie Lufkin; Anthony, Cody, Ryley, and Lindsay Avina; Taylor and Eric Schmidt; Isiah and Garrett Avina; and great-grandson Gaige Olson. Sisters: Margie, Judy, JoAnn, and Karen, as well as many nieces, nephews and cousins.
John was born in New York City (Manhattan) NY and raised in Pennsylvania and New Jersey.
He entered the United States Army in 1959 serving in Berlin, Germany until 1963 and awarded the Good Conduct Medal.
In 1970, John moved his family to San Jose and eventually they made their way to Gilroy where John remained until his passing. He earned a Degree at Gavilan College and accepted an accountant position as controller with Pacific Underground Construction where he retired. John worked part time at Rapazzini Winery where his humor and joyous personality won over many tourists and customers. John was known for his humor, his abundant energy and deep sense of duty, love for his family, his community and his country.
He joined the Gilroy Elks Lodge where he was heavily involved holding numerous officer positions: Chaplain, Esquire, Lecturing Knight, Loyal Knight, Leading Knight, Exalted Ruler, District Vice President, District Deputy Grand Exalted Ruler, District Webmaster Chairman, and CHEA BLT Vice Chairman North.
After retirement, John and Phyllis traveled in their RV many times across the USA, Canada and Mexico. With John's fun-loving personality, they made many friends all of whom are still close today.
A Memorial Mass will be held at St. Mary's Catholic Church in Gilroy on July 10th at 5:00 p.m. with a celebration of life following at the Gilroy Elks Lodge, 2765 Hecker Pass Hwy Gilroy, CA 95020. Donations may be made in John's memory to the Gilroy Elks Lodge, Major Project (Purple Pig) Charity Fund.