President's Message – September/October 2013
Hello and Aloha!
Claudette and I have begun our travels around this great Association of ours.  We just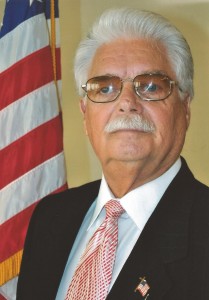 returned from our Grand Lodge Convention in Reno in mid-July.  What a great turn out from California and Hawaii!  Everywhere we looked in the convention center we saw blue coats.  I want to thank all of you – your enthusiastic participation made Claudette and I so proud to represent the California-Hawaii Elks Association!
In April, we attended the Nevada Elks Association Convention in Carson City.  It was a fun time!  While the Nevada Elks Association is much smaller than CHEA, they are just as dedicated to Elkdom as we are.
Then, of course, we had our annual CHEA Convention in Anaheim in May.  What a great turn out!  Again Claudette and I want to thank everyone involved.  After the Convention, we went to the Santa Maria Elks Rodeo.  What a great job they do and have been doing for the past 70 years, raising money for their local charities.  Our next stop was to the Metropolitan District where we visited five lodges.  It's great to see the good things that all of the lodges are doing in their communities to "Pass Elkdom On."
When we left the Metropolitan District, we went to Mesquite, NV, for their annual Mesquite golf tournament.  A little hot, but a good time.  We raised over $800 for the Major Project because of the participation by Elk members from lodges in California.
Now that the Grand Lodge Convention is over, we are back on the road spreading the word of Elkdom and what we, as Elks, are all about.  We look forward to meeting all of you when we come to your District to find out what you are doing in your lodges and communities.  Our visitation schedule is on page 4 of this issue.
In the previous lodge year, we raised just over three million dollars for our Major Project.  In order to reach that goal again, I'm asking each of you to donate just five dollars more – that's right – just five dollars more than you gave last year.  If every Elk in California and Hawaii does that, we will be able to continue to help all of the children that need us.  I know we can do this – "BUT IT'S ALL UP TO YOU."  
You won't receive your next issue of the magazine until after the Christmas Holidays, so Claudette and I would like to take this opportunity to wish all of you a most enjoyable fall season and a most blessed Christmas and Holiday season and God Bless All.
"ELKDOM, PASS IT ON"
Sincerely and Fraternally,
Dick McDonald
Richard L. McDonald, President
California-Hawaii Elks Association