A Vacant Chair – PGER Kenneth L. Moore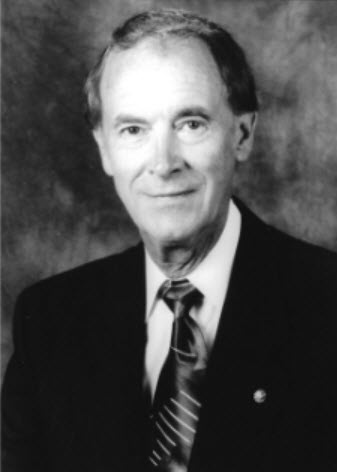 Kenneth LeRoy Moore, age 89 passed away on January 10, 2018 after a brief illness. Ken was born on a farm in South Dakota during the Great Depression. He resided in Corona, California for over 55 years, where he was a successful businessman who was also highly involved in the community. He was known as a quiet, honest and hard-working man who lead multiple organizations with dedication and integrity. He was selected as Corona's "Citizen of the Year†in 1991.
Ken was a loving family man who provided his wife and three children with a happy and comfortable life. He loved his family and was proud of his three children, 10 grandchildren and 12 great-grandchildren.
Ken grew up in Huron, South Dakota as the only child of Edward and Emma Moore. He graduated from Huron High School at age 17, and then joined the Army Air Corps during World War II. He was stationed at Bowling Field in Washington DC, where he served as an air traffic controller. It was there in Washington DC that Ken met and married the love of his life, Rosemary Hurdle.
After an honorable discharge from the Army Air Corps, Ken and Rosemary moved to Oregon, where he became an Oregon State Police Officer. Although he loved his work, it did not pay enough to support his family in the way he wanted, so he became a trailer salesman. He learned the trade well, eventually moving to Corona in 1961 to become President and Partner at GT Wolfe Mobile Homes. He was instrumental in forming Lancer Mobile Homes, Inc. in 1965, as Chairman of the Board and President, retiring after the sale of the company in 1973. He then became a founder and Chairman of the Board of board of Corona-based Western Community Bank in 1980. Upon retirement, Ken spent his time as a recreational pilot, camping, fishing, boating and traveling with family and friends. He built his dream vacation home near Hailey, Idaho where he spent many memorable summers and winters with family and friends. He continued to be active in and lead numerous civic and nonprofit organizations in Corona. His greatest involvement was with the Elks Club, serving as the Exalted Ruler of BPOE Lodge 2045 (Corona) in 1968-69, California-Hawaii State President in1982-83 and Grand Exalted Ruler (national level) in 1994-95. Ken was a strong proponent of the charitable work done by the Elks.
Ken is survived by his wife of 69 years, Rosemary, daughter Karen Stein (Bill), son Kenny "Skip†Moore (Cheryl) and daughter Karol Schmer (Ron), 10 grandchildren (Ryan, Cory, Melissa, Jennifer, Eric, Jason , Leslie, Michael, Monica and Megan)and 12 great grandchildren (Lucy, Cora, Matthew, Andrew, Mikey, Hayley, Madison, Allison, Calvin, Olivia, Owen and Wyatt).
Family and friends are invited to attend a memorial service on Monday, January 22, 2018 at 11:00 am (Thomas Miller Mortuary, 1118 E. 6th Street, Corona ), followed by a reception at the Corona Elks Lodge #2045 (912 E. 6th Street, Corona). A private interment will be at Riverside National Cemetery on Wednesday, Jan 24, 2018.
In lieu of flowers, the family requests that donations be given to the California-Hawaii Elks Major Project, the Corona Elks Lodge BPOE #2045 or the Loma Linda Veteran's Administration Hospital. Ken's family gratefully acknowledges the medical care, compassion and respect given to Ken by the medical staff of the Loma Linda Veteran's Administration Hospital.