Grass Valley Elks Lodge Donates to Food Ministry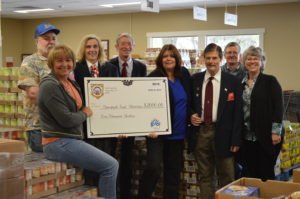 The Grass Valley Elks Lodge No. 538 received a $2,000 Beacon Grant from the Elks National Foundation.  The lodge donated the money to the Interfaith Food Ministry.  The Elks' continued generosity supports their vital "Egg and Peanut Butter" that provides essential protein for approximately 2,400 children.
Clients and volunteers of IFM deeply appreciate the Elks' 114-year commitment to the Grass Valley community and its generosity to those in need.