San Luis Obispo Elks State Champion Americanism Essay Contest Winner Qili Paape
Let's hear it for our local Lodge and State Champion Americanism Essay contest winner Qili Paape!!!
We are happy to report that Elks Lodge 322 Essay contest winner came in first place at our Lodge competition and has moved on to the state competition. Where she brought home the First Place win ever for our Lodge in Division II … 7-8th grade writers. The theme of this years' contest was "What the Pledge of Allegiance Means to Me†and after she read it on the state convention floor she received a standing ovation from the large crowd of Elks in attendance. She did a great job!!  We received 234 Essays by the students in San Luis Unified School District First Division 5th through 6th grades and Second Division 7th through 8th grades.
We were especially moved by her explanation of the passages that meant the most to her; you could see the effect it had on the crowd as she read her essay. We can all be very proud of her and the way she represented our lodge. She received a well-deserved check for $250.00 from the California-Hawaii Elks Association Judges and then headed back home to play her violin in her orchestra performance later that night.
Way to go Qili!!!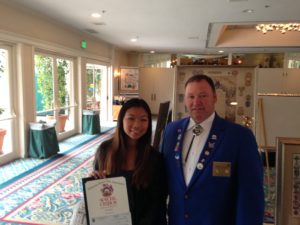 Exalted Ruler Bobby Moon and Qili Paape after award ceremony in San Diego, California)