Task Force Plutonium Operation Enduring Freedom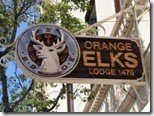 Captain Michael Merino, Civil Engineer Corps, US Navy presented The Orange Elks Lodge #1475 a flag that was flown over Guantanamo Bay, Cuba on September 11 2012.
Mike was recalled to active duty and just returned from his 12 month deployment as the Joint Task Force GTMO Engineer responsible for 227 facilities totaling about 1.3 million square feet supporting the detention of enemy combatants located in GTMO. Mike is a member of the Orange Elks!