2014 Ritual Contest Winners – Norwalk Elks Lodge No. 2142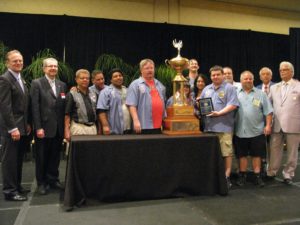 The winner of the Harry Hoffman Perpetual Trophy and 1st Place Team with a score of 97.3621 goes to the Norwalk Lodge No. 2142 who will be representing California in New Orleans this coming July at Grand Lodge. In 2nd place with a score of 97.1383, Carmichael No. 2103. In 3rd place with a score of 96.3885, Chula Vista  No. 2011. In 4th place with a score of 96.3151, Riverside No. 643. The Gerald Strohm Award is given to the Exalted Ruler who has the highest score in the category of impressiveness in the final four. The Exalted Ruler with the highest impressiveness score, 48.3100 out of a possible 50, is Ned Fox from the Carmichael Lodge No. 2103.
The Bud Tari Perpetual Trophy is awarded to the most underappreciated member of the ritual team; "the candidate" as was stated before. Bud Tari was the first Exalted Ruler of the Livermore-Pleasanton Lodge No. 2117. The trophy was obtained by Trill Torrilhon, CHEA Historian. It served as the winning cup for the California Ritual Competition from 1925 to 1930. The most impressive candidate of the final four contest is Judy Tucker from the Carmichael Lodge No. 2103.
The preliminary contest was held on Thursday, May 15, 2014 with seventeen teams that won their district contests and performed in the Grillo and Moore Divisions. Each of the two top scoring teams of each division moved up to the finals that were held on Friday, May 16, 2014 to see who would represent California at the Grand Lodge Contest to be held in New Orleans in July of this year. The preliminary contest also determines the All State Officers, Candidate, and Coach for each division. And so the results:
Grillo Division Teams 9th Place Score (90.0223) Indio No. 1643
8th Place Score (92.4093) West Covina No. 1996
7th Place Score (93.7547) Tulare No. 1424
6th Place Score (94.4094) Auburn No. 1691
5th Place Score (95.1829) Lodi No. 1900 4th Place Score (96.5650) Van Nuys-Reseda No. 2790 3rd Place Score (97.3166) Huntington Beach No. 1959 2nd Place Score (98.2227) Chula Vista No. 2011 1st Place Score (98.4391) Carmichael No. 2103
Grillo Division All State Awards All State Inner Guard: score (96.0400) Michael Fox, Carmichael No. 2103 All State Chaplain: score (95.9160) Janet Byrd, Chula Vista No. 2011 All State Candidate: score (102.0000) Judy Tucker, Carmichael No. 2103 All State Lecturing Knight: score (95.3510) Dave Miller, Huntington Beach No. 1959 All State Loyal Knight: score (96.3070) Diana Peel, Carmichael No. 2103 All State Leading Knight: score (95.2520) Genie Jenness, Chula Vista No. 2011 All State Esquire: score (95.4980) Ashley Munoz, Chula Vista No. 2011 All State Exalted Ruler: score (95.4390) Phillip Byrd, Chula Vista No. 2011 All State Coach: Helena Scherrer, Carmichael No. 2103
Moore Division Teams 8th Place Score (92.7219) Redondo Beach No. 1378 7th Place Score (93.2294) Chico No. 423, 6th Place Score (93.4410) Santa Cruz No. 824 5th Place Score (95.7287) Alameda No. 1015 4th Place Score (95.7799) San Rafael No. 1108 3rd Place Score (96.2290) Santa Maria No. 1538 2nd Place Score (96.5536) Riverside No. 643 1st Place Score (96.5666) Norwalk No. 2142
Moore Division All State Awards All State Inner Guard: score (94.7580) Lorraine Oropeza, Norwalk No. 2142 All State Chaplain: score (94.0360) Tamara Schirrmacher, Alameda No. 1015 All State Candidate: score (98.0000) Nikki Jags, San Rafael No. 1108 All State Lecturing Knight: score (94.9530) Lee Watson, Alameda No. 1015 All State Loyal Knight: score (95.3950) Karen Feldpouch, Santa Maria No. 1538 All State Leading Knight: score of (95.0490) Jonie Zuel, Riverside No. 643 All State Esquire: score (93.5720) Pat Baar, Norwalk No. 2142 All State Exalted Ruler: score (93.3240) Steve McGehee, Santa Maria No. 1538 All State Coach: Scott Ludwick Norwalk No. 2142