Chula Vista Lodge No. 2011 Promise Grant
Chula Vista Lodge No. 2011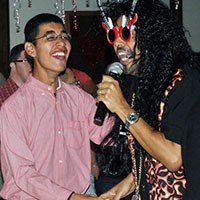 used a Promise Grant to hold a Sweetheart Dinner Dance at the Lodge for local teenagers with disabilities from Sports 4 Exceptional Athletes.
"The dinner was fantastic and the dancing was non-stop,†says Project Manager Becky Munoz.
As an added bonus, four members of the U.S. Paralympic Track and Field Team attended to inspire the teen athletes.