2023 Theme Child
Aushay from Santa Rosa, California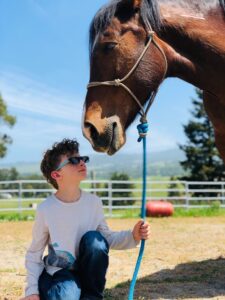 Born after a complicated 36 hours of labor, came a healthy baby boy of 9 pounds, 8 ounces on February 26, 2010. At birth, Aushay seemed very healthy. However, at Aushay's 3-week check-up, his parents and pediatrician noticed a few abnormalities which prompted multiple referrals to UCSF University of California at San Francisco. Initially, Aushay's family was referred to a cardiologist, geneticist, and an ophthalmologist for further testing. Aushay had his first surgery when he was only 3 months old on his eye to expand his pupil so his eye wouldn't stop working due to lack of stimuli since there were corneal opacities that were blocking visual input. Aushay's family spent much of his first-year patching his eye as a form of treatment.
Over the next months and years of his development Aushay's list of medical specialists and procedures grew. Eventually Aushay was diagnosed with a rare genetic condition called Rubinstein-Taybi Syndrome. He was also diagnosed with autism, ADHD, cerebral palsy, glaucoma, intellectual disabilities, sleep disturbances, and a host of eye issues. Aushay has many diagnoses and at one point was considered legally blind but has recently grown out of that diagnosis. He is now seen both at Stanford and UCSF Children's Hospital. He no longer uses a white cane but still wears corrective lenses. Aushay's most recent diagnosis came in the summer of 2021 when Aushay was diagnosed with Lennox-Gastaut Syndrome, which is a rare form of epilepsy. This has been a very challenging time for Aushay and his family as they have had many failed medication trials and continue to strive to reach medical stability for Aushay. Currently Aushay wears a helmet and sometimes uses a wheelchair for protection and accessibility.
Aushay resides in his Santa Rosa home, with his parents, Nicole and Cameron, and his younger brother, Levi. Aushay loves to spend time with his family and looks forward to connecting with friends at his new school, Cypress which provides a unique opportunity where Aushay can enjoy structure, safety and friendship safely away from home. Due to medical necessity, Aushay has a 1-to-1 aide at school for safety. He's making great connections! Aushay fatigues easily, likely due to his frequent seizures, but that doesn't stop him from singing and dancing. Aushay gave himself the stage name "Wobbly Lizard" a year ago and really likes to tell jokes. He says he wants to be a comedian one day, but he is still working on the pronunciation as it comes out 'chameleon'.
Aushay was first introduced to early intervention services when he was 2 years old due to a speech/language delay. When he was 3 years old, his family began to teach him sign language through the help of a specialist. Aushay became rather good at asking for what he wanted using his version of ASL. Although as his language emerged, that need to use sign language decreased. Even though Aushay was significantly delayed compared to neurotypical toddlers his age, he demonstrated many strengths which gave his family great hope for his future.
Speech Language Pathologist, Jocelyn Bishop began working with Aushay in March of 2022 when his family was struggling to find the resources to help with communication concerns. Jocelyn's therapy services through the California-Hawaii Elks Major Project coincided with the emergence of the global pandemic. Aushay had still not returned to in-person learning and with isolation, limited educational instruction, and other services indefinitely on-hold, Aushay's family was in desperate need of help. Aushay has developed a very strong connection with his therapist, Jocelyn. He has been an excellent participant in his speech therapy program, working on his goals to improve his social-pragmatic skills, socio-emotional skills, articulation skills, and language. Aushay enjoys guided reading activities, music, dance and everything about space and trains! A typical session may include a sensory regulating activity, like "Brain Gym" or yoga, paired book reading, and writing personal narratives about an experience. Aushay uses his speech therapy tools both in the classroom and home setting with help of his family and aides following his speech therapy home program.
Aushay also participates in all abilities dance class weekly and is officially a part of the special Olympics of Northern California. Aushay's favorite things to do include going to Sonoma Train Town, Roaring Camp Railroad Train from the Santa Cruz mountains to the boardwalk. His family also swims regularly. Aushay is a natural in the water and can swim independently with close supervision due to his diagnosis of epilepsy. Aushay enjoys playing with his many train sets, building with his magnet blocks and reading.
Aushay's step father, Cameron, was an eagle scout as a teenager and a former volunteer at his local Elk Lodge events. He feels that his service has come full circle with the aide they have received for his son through the Elks. Aushay's parents are also advocates for families with special needs, including being members of the National Epilepsy Foundation, Common Ground Society Sonoma County, and advocate for inclusion in their communities.
The appreciation and gratitude for the Major Project services grew even more when Aushay's little brother, Levi, was referred for speech and language therapy services in February 2023 due to a recent diagnosis of ADHD, severe separation anxiety, and oppositional defiance disorder. The Elks were able to provide services when his parents had been turned away from several school districts that were unable to meet Levi's needs. Levi is so excited to also get to work with Jocelyn, build his own connections, grow his socio-emotional skills, and learn to socialize in other settings.
As a family, Aushay, Levi, Nicole and Cameron LOVE to travel and are trying to find a way to bridge the gap as traveling has become complicated. They also enjoy bike riding and have an electric bike set up that allows them to pull Aushay so he can participate in the exercise. Aushay and his family seek adventure, including train rides, cooking food, baking cupcakes, snuggling and visiting the ocean.
Aushay continues to make progress toward his goals in speech and language therapy with the guidance of his therapist, Jocelyn. He is building skills to become a better communicator, improve the clarity of his speech as well as work on strategies to self-regulate in order to build strong connections with his family, friends, teachers, and therapists. Aushay's willingness to continue to learn and grow will allow him to break barriers in this world. Despite a myriad of setbacks in his life, Aushay is a a beam of light to anyone he comes in contact with.
Aushay is a shining example of what the therapy services through the California-Hawaii Elks Major Project can accomplish! The therapists who are part of this project are honored to offer their skills and expertise to help children like Aushay, develop skills, obtain equipment, and learn strategies so that they can walk, talk, see and play! The California-Hawaii Elks Major Project provides skilled services and hope for families in need.
Discover how you can refer a child for therapy.
Download the 2023 Theme Child Brochure for the complete story!